Clean cleaner cleanest – Walvis is good for your health!
Of course we are all very clean, we have learned that from that damned corona crisis. Yet we sometimes forget something. Did you know that our computers, keyboards and cell phones are where the most bacteria live?
Of course we should not try to make our living environment completely sterile, bacteria and viruses have always been there and they will always remain. But the very things that we touch all day long and that we share so easily with each other are important habitats for (poop) bacteria such as E-coli and Salmonella.
Nothing wrong with working from home, right? Can we at least cut the chicken breast between work and then continue with the computer work in good spirits.
Still so much to do; Then eat that sandwich above the keyboard. After all, we are all familiar with multitasking.
So it is not such a strange idea to regularly clean your keyboard, your screen and your phone. First shake your keyboard. Unplug it, hold it upside down after shaking and give it a few gentle taps on the bottom. Well above the trash can; otherwise you're just moving the dirt. Use our Beco carbon brush: run it between the keys to loosen the dirt and shake it out again. Still not quite clean? Just order a spray can of Walvis compressed air! Finished? Now wipe your keyboard clean with a Walvis moist plastic cleaning cloth, which has an antibacterial effect. Also don't forget your screen, your mouse and your touchpad: just wipe with our Walvis moist screen cleaning wipes. After all, everything is regularly coughed up by us and is often covered with our nasty little cough partitions. Can you see everything more clearly? Also think about your telephone, it could also use a little service with exactly the same wipes! Prefer not to use disposable wipes? At Walvis we also have handy 250 ml. spray bottles with plastic cleaning fluid and screen cleaning fluid. Are you looking for a really good microfibre cloth? Walvis provides that too!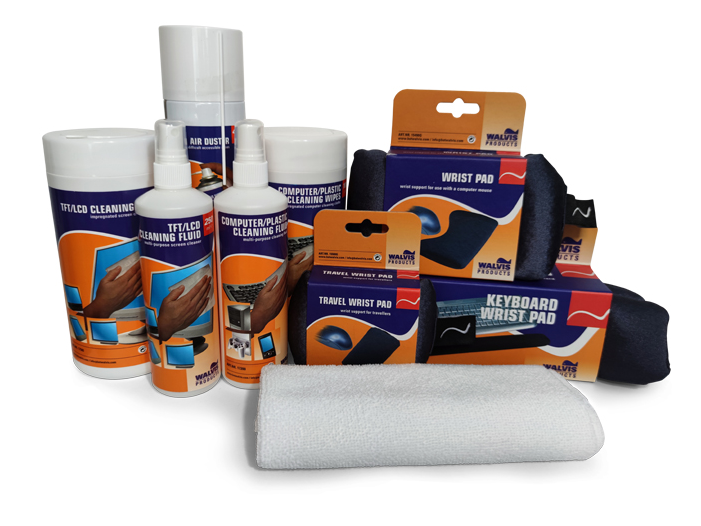 Are you convinced? You can temporarily get to know the large WalvisClean Advantage Pack: everything you need in one complete set for an unprecedented Walvis Friend Price!
Do you work a lot with your computer? Prevent RSI! RSI (Repetitive Strain Injury) is a collective name for muscle and joint complaints of the hands, wrists, shoulders, arms and/or neck. An RSI-related injury is caused by an ever repetitive movement, resulting in continuous muscle tension. RSI complaints can usually be prevented by ensuring a varied posture, by taking regular breaks, doing exercises, avoiding stress and last but not least, using good ergonomic aids. Walvis supplies high-quality tools such as a keyboard rest, a wrist rest and a small handy wrist rest for on the go. Buy the large WalvisClean & Ergonomics Advantage Pack now at an extra affordable price: identical to the WalvisClean Advantage Pack, but supplemented with no less than 3 top-quality ergonomic aids.

De klant vertelt
[WEBWINKELKEURWIDGET layout=new_default theme=dark color=#342D6A show=yes view=slider amount=6 width=auto width_amount=280px height=230px interval=5000 language=2 inline=0]